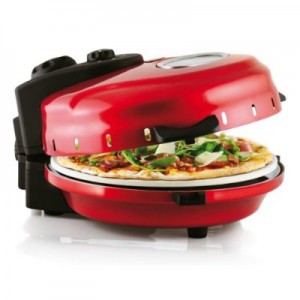 Not everyone has the room for a traditional stonebake oven in the kitchen so this neat kitchen appliance is a great alternative. Itwill produce authentic Italian style pizzas in a matter of minutes and it won't break the bank either.
This small tabletop pizza oven is easy to use and comes with recipes to get you started. If your culinary skills are a little lacking this will be your perfect partner in the kitchen.
Making perfect pizzas will soon become a doddle and if the chef's feeling lazy you can use the compact machine to heat up ready made pizzas.
Restaurant Style Pizza
The new Stonebake Pizza Oven from Giles & Posner is also great for heating up a whole range of foods including quiches, croissants, pasties and pies. This new product is part of Giles and Posner's entertainment collection in the EAT range. It will make a useful and welcome addition in the kitchen especially as the season for eating outdoors arrives.
Rustling up a restaurant style dish in next to no time and sitting back chilling out with friends Mediterranean style is made easy with the Stonebake Pizza Oven. The dimensions are small enough to fit easily in the kitchen making this tabletop oven perfect where space is a problem.
---
Key Features
Deep dish interchangeable, non-stick plate
Delivers an intense heat for a crisp base
Easy to use with temperature controls
Viewing panel so you can watch your food cook
Suitable for cooking frozen pizzas, pre-baked base pizzas, thick and thin based pizzas
Simple to use and easy to clean
Includes a free easy to use recipe book and user guide
Versatile – you can warm a range of food with your pizza oven
Pizza base approximately 12 inches
Mains powered: UK plug included
Suitable for ages 14 years +.
Size: 37.6 x 34.4 x 20.1cm.