A Healthier Way of Cooking
For a quick and healthy way of cooking, you can't go wrong with a George Foreman grill. It is a compact and convenient ideal for family meal times. It cooks and grills 3 times faster which is good news for the chef of the house. By grilling from both the top and bottom plates food is ready sooner and any unwanted fat and grease are channelled away from the food into the drip tray.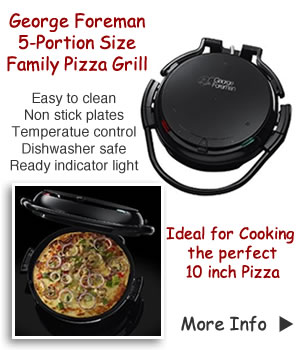 Buying a fat reducing grilling machine benefits the whole of the family and puts you on track to a healthy lifestyle.
In addition, a healthier approach to your usual cooking methods the George Foreman grill speeds up the cooking process without compromising on taste or flavour.
Multi-Purpose Grilling Machine
You can cook a wide range of foods with this multi-purpose grill and pizza oven.
Features include a round pizza plate for cooking a 10-inch pizza just how you like it with a nice crispy base.
Just swap the bottom grill plate to a flat griddle plate and place your fresh or frozen pizza on it.
The even heat from above and below means the finished pizza is cooked to perfection. Other foods to enjoy cooking with your health grill include chicken, salmon steaks, paninis, omelettes, bacon, hash browns and vegetables
you may also like…
i COVER Round Grill Cover- Heavy Duty Weather-Resistant Polyester Material,Water Proof Indoor Outdoor Canvas BBQ Grill Cover,Dome Smoker Cover,Designed For George Foreman Gfo3320 &Gfo240 grills.
Amazon
George Foreman Entertaining Grill, 7 Portions
John Lewis & Partners
George Foreman 22460 Indoor and Outdoor Grill, Plastic, 2400 W, Black
Amazon
Product Features
George Foreman Grill with Pizza Plate
Easy Clean Removable Grill Plates
Tilt Function for Runny Foods
5 Portion Family Size
Variable Temperature Control
Temperature Ready Indicator Light
Floating Hinge Adjusts to any Thickness of Food
2 x Drip Trays
2 X Spatulas
Instructions