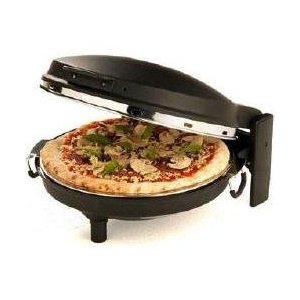 Features
Authentic Italian Style Pizza in minutes
Easy to use
Compact size
Minimal Cleaning
Interchangeable stone and deep dish pan
User Manual
The Pizza Maker is a compact and easy to use mini oven featuring a traditional stone base that cooks authentic Italian style dishes in your own kitchen in 5 minutes. The pizza making machine creates intense heat that absorbs excess moisture giving you mouth-watering pizza cooked evenly with a yummy crispy base.
View Latest Pizza Oven Range <<
The pizza maker is small enough to store on a kitchen work-surface measuring only 36 centimetres in diameter but ready to fire-up and deliver fresh pizza in minutes. This great little cooker is great for preparing pizza for children's parties and compact enough to keep on a kitchen worktop or take on a caravan or cottage holiday as well as making a great gift or Christmas present.
Replacement accessories

Pizza Stone
Deep Dish Pan
Wooden Paddles
Pizza Cutter