No More Soggy Pizzas
The pizza stone set complete with cutter makes the ideal accompaniment for cooking pizza. Serve up in style from oven to table with this easy to use a functional ceramic plate. The slicing wheel makes light work of sharing and is great when entertaining at home. Using a stone cooks a pizza to perfection and retains the heat ensuring the food is hot and fresh right to the last mouthful.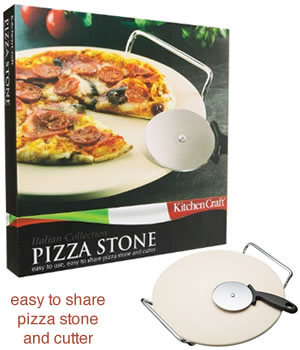 Serving Tools & Cutters
There are plenty of utensils to aid you in the kitchen and this pizza gift set rates as one of the best for presenting a well turned out pizza.
Handy tools such as pizza stones, cutters, wheels, spatulas, tongs and servers are essential when you have guests around and you want to achieve professional results at the dinner table.
Cooks Fresh & Frozen Pizza
Good quality accessories like these are sturdy and made to last.
Anyone passionate about cooking and sharing the experience with friends will have all the right gadgets to make their work easier.
The pizza stone is ideal for cooking fresh and frozen pizzas, it can also be used for bread, biscuits, muffins and pies. The pizza wheel is ergonomically designed and sharp for a clean cut every time.
Kitchen Craft Italian Collection, Authentic Stone Stand and Pizza Wheel
The flat ceramic stone is designed to distribute oven heat evenly producing excellent results.
The porous nature of the stone helps absorb moisture leaving you with a crispy crust and base restaurant style! Kitchen Craft Italian Collection Pizza Stone Stand and Pizza Wheel make a great present for the chef of the house.
you may also like…
Product Details
Pizza Baking Stone
High Impact Ceramic Stone Plate
Pizza Cutting Wheel
Serving Rack
Size: 32cm Diameter
Instruction Leaflet
BBQ Grills Under £100
Outdoor Pizza Ovens Reduced
Low Price Barbecues, Chimineas & Fire Pits