Pizza Ovens for Kitchen & Home
The table top oven is a kitchen gadget that will be used over and over again. In particular two of these are the Stonebake Pizza Oven and the Pizza Maker Oven. With both of these machines there are no fancy gimmicks or gismos, what you get is a sturdy, easy to use compact oven. The Stonebake oven is sells out quickly as this one is a popular model.
Compact Indoor Pizza Ovens
Restaurant Style Results in Minutes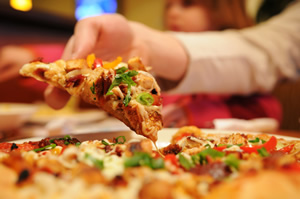 You will be amazed at the results and be able to enjoy restaurant style results at any time. The great thing is you can make them as healthy as you like or not as the case may be!
You will be in total control and enjoying mouth-watering pizza in a jiffy. You don't have to be a maestro in the kitchen to bring that authentic Italian flavour home.
Imagine coming back from a Mediterranean holiday and being able to capture the aromas, flavours and taste of dishes you enjoyed while away.
Best of all, buying a pizza oven means you no longer have to go Italy to enjoy a genuine stonebake pizza. This neat little kitchen appliance will produce the "real thing" in around 10 minutes. Italian style pizzas are a hit with kids and adults alike and make a firm favourite for entertaining at home.
Compact Ovens for Kitchen & Home
Garden barbecues and outdoor eating are nothing new so what better way to impress the family and friends with a home made pizza to enjoy outside too. The great thing about buying a pizza oven is it is ideal for everyday meals indoors as well as for outdoor eating too.
Outdoor Pizza Ovens
With the help of handy recipe books some exotic and scrumptious dishes can be produced. You can muster up everyone's favourite dish in next to no time so you won't be left in the kitchen cooking all day long.
The heady aroma of your stone-baked creation will drift in the air just like being in a pizzeria all you need is some salad, sunshine and of course some Italian wine to finish. Of course if your after an outdoor wood fired barbecue, wood burning pizza oven or a commercial oven then you'll have have to spend quiet bit more.
As with most cooking appliances in the kitchen surfaces can get very hot so take care not to touch hot surfaces when in use.